3 Year Old Girl Gift Guide for Christmas 2023
Nov 09, 2023
Shopping for a special 3 year old girl in your life? Well these are TRIED & TRUE gifts my real 3 year old daughter LOVES!!! We have every single one of these things!! Hope it helps :)
This is the exact one my daughter has and she LOVES it. It has held up pretty well for us!
We love all the 5 minute story books. They are a great deal for the price! My daughter has this one and picks it out to read quite often!
This ball is SO CUTE. My daughter isn't even on a soccer team yet but she loves kicking this ball around and is ready to be old enough to be on her own team! It is really a great color and really sparkly!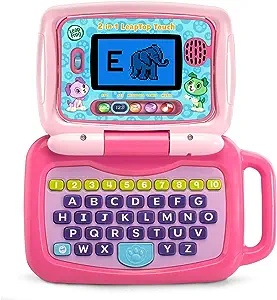 LeapFrog "Pink Laptop" (as my daughter calls it!)
My 5 year old son also plays with this sometimes so it should last for a while! My daughter's friend had this laptop/tablet toy and it was one of the only things she mentioned she wanted for her birthday and she has loved it for the past several months!!
My kids LOVE THIS. It is a bigger-ticket item but man, we have gotten hours and hours of fun. You 100% need to purchase THIS KIT as well, so don't forget to buy this too! This kit includes the pretend toy and other accessories that are made for this exact grocery store. You could also buy THIS KIT of additional food, or THIS KIT of additional food, and/or THIS GROCERY CART.
KidKraft Wooden Farm to Table Play Kitchen
This is the play kitchen we have had for over a year and LOVE. It's a strong recommendation from me too! It has a little ice maker, wooden knife and cutting board and some veggies to cut, a chalkboard. The cabinets also are great storage for a few other kitchen things we have too!
Melissa & Doug Mine to Love Cradle
This is such a great toy for the price! We have had ours for about 2 years now and it is still in great shape! We love it! We have the coordinating stroller & high chair pictured below! It's all such a cute set!
Melissa & Doug Doll Wooden High Chair
We have had this for a couple of years and it has held up perfectly! It is such great quality for the price! We love the coordinating cradle and stroller too!
We have had this for years and love it! It is great quality for the price!!! We also love the coordinating high chair and cradle pictured above.
This doll is maybe a little bit larger than a Barbie! We keep her with our Barbies! Such a fun toy for the Elsa-lover in your life and a great price! THIS Anna doll is the same! Gotta get both sisters :)
These stick-on earrings are so fun and cute for a 3 year olds! Some packs available on Amazon come with a lot more earrings for the price, but this set is the cutest in my opinion!
This tent is so cute and kind of big! My daughter thinks it is SO AWESOME. The star lights it comes with are super cute. It was a little tedious to put together so you wouldn't want to take it apart and put it together all the time, but you can! It all comes apart and folds up into a small bag for storage.
My daughter LOVES listening to her Tonie box. It's a good solution for us when she doesn't think she's ready to go to sleep but we know she is ready to be in her bed for the night. She will sometimes fall asleep listening to her Tonie box! It's a really sweet and safe way for kids to pick their own things to listen to! Tonie characters each come with a couple of songs and stories. We are big fans!!
It amazes me how much my kids use these blocks! They make castles, build roads, and so much more. My 5 year old still plays with these too!
Picasso Tiles - We have this brand and the MagnaTiles brand and they work the exact same! They are just as strong and are interchangeable with the magnatiles and a fraction of the price!
On Our List This Year:
Here are some things we don't own yet, but are on my shopping list for my daughter!
These color-changing markers
Elsa and/or Disney Princess Stainless Steel Water Bottle
These craft scissors with zig zag lines
Hope this helps! Thanks for being here!
Elevate Motherhood Home Organization Master Class
Our online course takes you step-by-step and room-by-room to declutter and organize your house, once and for all! It's for regular moms, just like you. As we declutter and organize, we're making more space for what (and who) really matters. Stop wasting your time and invest it! Let's get your house working for YOU!
I'm Ready to Get Organized
Get All Things Elevate Motherhood!
Organization tips, positive encouragement, podcast recaps, and Elevate Motherhood exclusives.
Delivered straight to your inbox:
You may unsubscribe at any time.